How to File a Michigan Car Accident Lawsuit or Claim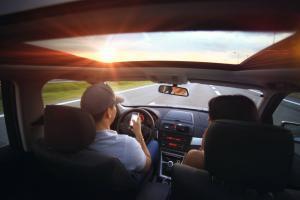 How to file a Michigan Auto Accident claim can be confusing at first. Below we have compiled an article that we hope you will find useful while trying to understand how to file a Michigan auto accident claim. Here at The Law Firm of Elia & Ponto we understand and appreciate that when potential clients contact our office, they are often looking for more than a monetary recovery. A Michigan Car Accident lawyer must be dedicated to your case. That's why here at the Michigan Auto Accident law firm of Elia & Ponto we treat every client like family.
When You Say "Claim" Do You Mean "Lawsuit"?
This is one of the most common questions asked. Pursuing a claim does not always mean that you are suing someone. In many cases of Michigan auto accident claims like a motorcycle accident or an auto accident are informally settled without filing a lawsuit. 
What Are the Limitations or Barriers to Pursuing A Claim Resulting from An Auto Accident?
There are two requirements to pursue a claim against the person who is responsible for your injury in Michigan.
The first requirement is that the operator of the other vehicle must be at fault for causing the accident by law. The second requirement is that you must meet the legal requirements for what is known as a threshold injury. This is a very complex process that will need the consultation of a Michigan auto accident attorney to further assist you.  We are here to guide you and answer all of your questions related to your claim.For read more about Michigan No Fault Insurance click here.

Does My Injury Have to Be Permanent?
No, your injury does not have to be permanent for filing a Michigan auto accident claim. Understanding this, these are very complicated issues. You will need to seek the assistance of a Michigan auto accident lawyer to fully understand your rights and what you are able to do.
What is The Statute of Limitations for Filing a Claim?
A Statute of limitations is a legal term used to describe the window of time you have to file a case after you incur damages or injury. Every state has a statute of limitations for filing a case after an accident. You will need to file the case between that time frame in order to maintain your right to be compensated. To learn more about Michigan car accident lawsuit claim time limits or Michigan car accident statute of limitations, read our blog post found here.
The statue of limitation in Michigan is three years after you are involved in an auto accident to file a claim for your pain and suffering.
What is a Michigan Economic Damages Claim?
If you are injured in a Michigan car accident then the expense of your chiropractic or medical treatment, home and nursing, rehabilitation, travel expenses, home modifications are paid by the appropriate automobile insurance company. Michigan has a No-Fault system which says that the reasonable charges will be covered. Moreover, this type of claim is known as PIP claim or First Party Claim.
What If I Am in A Michigan Motorcycle Accident?
If your motorcycle has the legal minimum requirement of liability insurance then the responsibility rests on two parties.
The insurance company of the owner

The insurance company of the operator of the motor vehicle involved in an accident.
Moreover, if the owner has an uninsured motorcycle then he or she is not able to make claims for economic benefits due to an accident.
If the car which is involved in the accident is not insured then the responsibility rests with the insurance company of the owner of the motorcycle and the insurance company of the operator of the motorcycle.
In the scenario that none of the above situations are applicable, it is best to have your Michigan car crash lawyer help you contact the Michigan Assigned Claims Plan. Understanding how to file a Michigan Auto Accident claim is a complex process. A Michigan auto accident lawyer at the law firm of Elia & Ponto is ready to help you now.
What is Required To FILE A Michigan Non-Economic Damages Claim (Known As A "Pain And Suffering" Claim)?
First, the driver who caused your accident should be more than 50% responsible for the accident.

Moreover, you must suffer from a serious and permanent disfigurement, death, or serious impairment of the body.

The report of the physician which says that the accident is more likely the cause of your injury.

You must have medical evidence to prove your injury.

The accident cannot be intentionally caused by you in any shape or form.

You must not be the owner/driver of an uninsured automobile.
WHAT SPECIFIC ECONOMIC DAMAGES AM I ENTITLED TO IF I AM INJURED IN A MICHIGAN CAR ACCIDENT?
Medical Expenses
Medical expenses are known in the law as all of the necessary expenses incurred for your recovery, rehabilitation and care. Medical costs can include all, but are not limited to the following: diagnostic testing, physical therapy, psychological care and treatment, and lastly vocational & occupational rehabilitation.
Attendant Care Benefits
If you are involved in an auto accident, motorcycle accident or semi-truck accident in Michigan attendant care benefits are available to you. In the scenario that the person who was involved in an auto accident is not able to take care of their well being without assistance, a third party assistant may be hired to help during the injured party's time of need. This assistant may be a husband or wife, neighbor, friend or professional. The insurance company is financially responsible for the reimbursing those who provide these services to you. You will need a doctor's note and an affidavit from your caregiver to receive this benefit.
Lost Wages
Work loss benefits are payable to an injured person for three years following an accident, covering 85% of the gross lost wages. The maximum benefit is raised annually; for 2018 it is $5,541.00 per month. A doctor's disability slip and proof that you were earning a wage are required. If you were still looking for work or were temporarily unemployed at the time of an accident, you will still be able to receive benefits. If your earnings exceed the statutory maximum, then additional wages lost can usually be collected from the negligent driver's automobile insurer. This is known as an "excess wage claim".
Replacement Services
An injured party is able to receive $20 a day for household chores that they are no longer able to do as a result of an auto accident. This can include, but is not limited to: cooking, cleaning, babysitting, running errands, mowing the lawn and shoveling snow, and more. This is called a "replacement services" benefit and is paid up to 3 years after your accident. You will need a physician's note stating that you are unable to perform these chores due to the injuries you sustained in the automobile accident.
Mileage
In most cases, an injured party is able to receive a designated rate per mile for trips to a doctor's office, physical therapy clinic and all other medical or chiropractic visits. In Michigan, medical mileage is a lifetime benefit.
Who can help me file a Michigan Car Accident Lawsuit or Claim?
Understanding how to file a Michigan auto accident claim can be complex and confusing for anyone. Here at the Elia & Ponto Law Firm, we take every case deadly serious. Our Michigan car accident lawyers are standing by now and are ready to help you. We will personally guide you through the process of how to file a Michigan auto accident claim and assist you with any questions you may have during the process of learning how to file a Michigan car accident claim.