Michigan Motorcycle Accident Lawyer
Michigan motorcycle accident laws are complex in nature; especially with the laws for a motorcycle accident being quite different than laws regarding auto accidents. Individuals who are hit by someone in a motorcycle accident have the ability to sue the responsible party – especially if the victim suffered a serious impairment of an important body function, permanent and/or serious disfigurement or death. Victims may also claim compensation for their pain and suffering or any loss of consortium. A Michigan motorcycle accident lawyer at Elia & Ponto can help guide you through the process of filing a claim.
In the State of Michigan, you must prove that you are not more than 50% responsible for the motorcycle accident. If you are more than 50% responsible for the accident, then you cannot claim for your pain and suffering.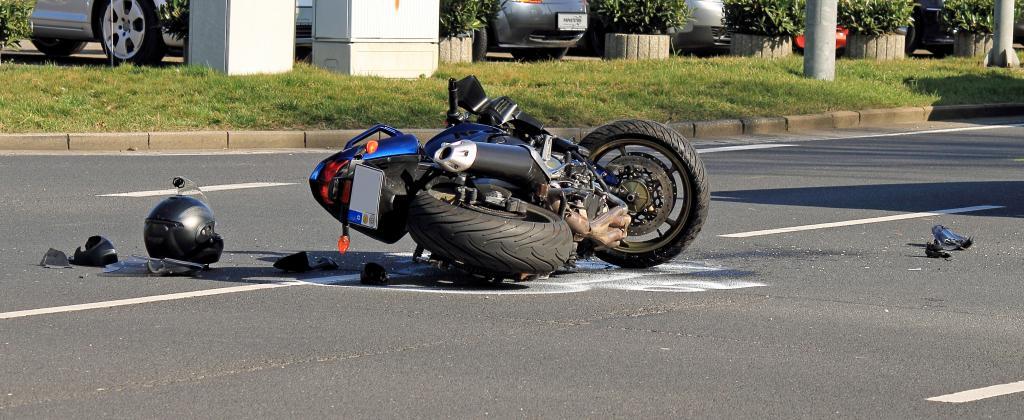 Michigan No-Fault Benefits for Motorcycle Accidents
If you are driving a motorcycle and collided with a car or truck, then you can receive No-Fault Benefits (i.e. replacement services, medical mileage, payment of medical bills, and attendance care). However, this is only eligible with a vehicle collision; if you collide with a tree or light pole then you cannot receive benefits of the No-Fault law. The No-Fault benefits shall be paid in accordance with the following priority rules:
Registrant or insurer of the Motor Vehicle involved in the Accident.

The insurer of the operator of the motorcycle involved in the Accident.

Motor Vehicle insurer of the operator of the motorcycle involved in the motorcycle accident.

The registrant of the motorcycle or Motor Vehicle insurer of the Owner involved in the Motorcycle Accident.

Motor vehicle insurer of the owner of the Motor vehicle of resident relative to the victim in the Motorcycle Accident.

The resident relative of the injured driver, motorcyclist, or passenger.

Assigned Claims Facility.
In addition, if you do not have the required motorcycle insurance, you cannot get No-Fault benefits under Michigan law.
The Statute of Limitations for Michigan Motorcycle Accidents
The Statute of Limitations for the Michigan motorcycle accident is one (1) year. This means that victims must claim no-fault benefits within one year of the accident. If the victim is suing the responsible driver, then the statute of limitation is three (3) years; meaning the victim can sue the responsible driver within the three years of the accident (unless the victim is a member of the military, mentally incompetent, or a minor). Michigan motorcycle accident laws may be rather confusing – however, a leading Michigan auto accident lawyer at Elia & Ponto can make this process much easier to understand. 
Motorcycle Damage Caused by a Michigan Motorcycle Accidents
Unfortunately, victims cannot sue the responsible party for any physical damages to their motorcycle unless they carry collision insurance. If a driver holds collision insurance, then they can claim for the physical damages to their motorcycle. For more information regarding Michigan Motorcycle Laws, contact a knowledgeable motorcycle lawyer at Elia & Ponto today.
Michigan Motorcycle Licensing
In order to operate a motorcycle in the State of Michigan, driver's need a valid license with a motorcycle endorsement. If a driver operates a motorcycle without an endorsement, a fine of up to $300 may be imposed.
The steps to get your "CY" endorsement are as follows…
Go to a 

secretary of State office

 to take the written knowledge and the vision tests to obtain a Temporary Instruction Permit

Practice riding (up to 180 days)

Pass the rider's skills test

Present your completion certificate at a

Secretary of State office
Michigan Motorcycle Accident Lawyer FAQs
What else do motorcyclists who are considering hiring a Michigan motorcycle accident lawyer need to know? If you or a loved one has actually been injured in a motorcycle crash, you may be entitled to vital and also useful No-Fault insurance policy benefits and compensation. Furthermore, by working alongside an appropriate legal team with the capability of providing representation victims have a higher chance of recouping the full value of their insurance claim. Below are frequently asked questions by many motorcyclists across Michigan.
How much does a Michigan motorcycle attorney charge?
Seeking legal representation can be incredibly helpful – however, many victims are initially concerned regarding the price of hiring such an attorney. Fortunately for our clients, we do not require any out-of-pocket payments… ever. As a matter of fact, we're never going to ask you to pay any costs until we win your case. Our nationally recognized lawyers work with a contingency fee, meaning we get paid only if the client's case is won. Our payment for aiding people is paid as a percentage of the settlements we win for our customers. Plus, we extend our 100% customer satisfaction guarantee to each and every one of our customers.
What kind of lawyer handles motorcycle crashes?
If you've been in a motorcycle crash and seek legal representation, you will work with a Michigan motorcycle lawyer who has specialized experience in assisting hurt victims of similar cases. You will want a lawyer who understands how much your case is worth. Such a lawyer should have the ability to prove the harm that you have endured, as well as must be able to discuss a settlement for the amount of your case. Such compensation should cover present, as well as future, medical costs and along with lost wages and compensation for pain and suffering. Without the right lawyer, it's almost impossible to settle your case for the amount it's worth.
Although insurers may examine claims, these companies typically try to spend as little money as possible meaning many victims receive the bare minimum (if even) in regard to compensation. A skilled lawyer with a record of proven outcomes, consisting of top reported negotiations and also judgments, substantially boosts a victim's opportunity for receiving substantial compensation.
Is seeking a Michigan motorcycle accident attorney beneficial?
We understand the skepticism behind seeking legal representation – however, you do not have to take our word in regard to its importance. The insurance coverage sector's very own data reveals that an individual who is represented by a knowledgeable lawyer recoups substantially more than a person who chooses to represent themself. Furthermore, and as previously mentioned, the lawyers at our firm work on a contingency fee; therefore, our clients do not pay unless we win. Our attorneys will handle all aspects of a case so victims can focus on themselves during this time of stress. We are constantly here to address any questions regarding the case, the process, the legislation, the insurance provider, the insurer, the court, and much more. We're right here for you.
How long does it take to obtain a settlement?
Each case is unique, so unfortunately there is no easy answer to this question. However, there are several elements that could assess how long it could take for a settlement to be obtained, including…
The injuries a victim sustained

Diagnosis received

Present and future medical needs

Whether a victim is unable to work as a result of their injuries

The extend of a victim's injuries, and if those injuries have resulted in an impairment that affects their everyday life

If such injuries will require "excess" coverage for medical expenses and/or lost wages

The experience, track record and credibility of a client's attorney

The at-fault vehicle driver's auto insurer, insurance adjuster, defense attorney as well as liability limitations
Free Consultation with Our Michigan Motorcycle Accident Lawyers
Call Elia & Ponto PLLC. now to speak with a lawyer specialized in motorcycle accidents today – or fill out our consultation form for a cost-free consultation. There is no charge or obligation. Our lawyers are here for you and your loved ones; 24-hours a day, seven days a week.
We understand the physical, and emotional hardships that injury victims experience, and our attorneys are ready to help. To learn more about how our Michigan Car Accident Lawyers can aid you, take a look at our testimonials from our clients or read about our 100% satisfaction warranty.