Michigan – Deer-Related Accidents – Important Information and Facts to Know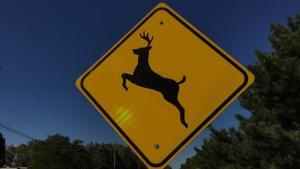 Deer, like many animals, are a pleasant sight when kept in their natural habitat. However, when venturing onto roads, deer can become extremely dangerous. Unfortunately, most drivers have very little time to react when these animals suddenly emerge onto the road or highway – especially because of their fast speeds. The risk of deer-related vehicle accidents is currently on the rise as the population of deer in Michigan increases. For this reason, it is crucial to know the following information regarding deer-car accident protocols and what you and your loved ones can do to ensure additional safety.
If you or a loved one have been involved in a deer-related auto accident in Michigan and have any questions or concerns, contact Elia & Ponto for further information.
Actions to Take After A Deer-Car Accident
If an individual unexpectedly hits a deer with a vehicle, the following steps are considered to be the best procedure:
If the driver and/or any passengers within the vehicle are hurt, call for an ambulance.
Call the police to report the accident.
Do not approach the deer and/or attempt to move – even if the deer seems dead. Injured or distressed deer can still be extremely dangerous.
If possible, pull to the side of the road and turn on the vehicle's hazard lights while you wait for the law enforcement to arrive.
Document the accident and any related damage by taking pictures of the vehicle, deer, road and surrounding area – only if this can be done safely. Documentation of injuries (via photos or written notes) should also be taken.
If any witnesses to the accident are present, ask them to state what they saw to the authorities and exchange contact information.
Michigan Deer-Related Car Accident Facts (2019)
Although the extent of the damage may vary depending on the accident, the results of the deer-car collisions may be extremely dangerous or even fatal. Having a better understanding of recent facts can help individuals and their loved ones to understand the seriousness of this type of accident. Below are various reports of deer-related accidents in Michigan during 2019.
In comparison to 2018, Michigan had an increase of 2,067 deer-related crashes; totaling to 55,531 deer-car collisions
Among these collisions, 12 resulted in fatalities – 8 of which involved motorcyclists
As a result of these deer-related car accidents, another 1,265 individuals were injured
54,254 victim's sustained damages to their vehicle.
A total of 33,036 of these accidents occurred most commonly on local streets, while the remaining reports occurred on interstate highways and State routes
13,702 of these accidents occurred between 6 p.m. – 9 p.m.; including six of the previously mentioned fatalities
Important Facts to Know About Deer
While this information may not apply to every accident, understanding these common facts about deer may help drivers to know when to be particularly alert.
Deer are most active during dawn and sunset
Deer are easy to startle; therefore, unexpected sights and sounds can cause them to move quickly and unpredictably. This includes headlights and/or car horns
Deer typically travel in groups and in single file lines when crossing a roadway. If you see one, anticipate others being nearby
Tips to Avoid Hitting a Deer
Unfortunately, it's impossible to be completely preventative with any accidents. Nevertheless, there are a number of tips that can help you and your loved ones to be pre-cautious and help to avoid hitting a deer in the future.
Drivers should be sober and alert once behind the wheel
Be extremely cautious – especially during both the Spring and Fall; this is when deer are more abundant in their habitats
Carefully drive in areas where deer cross signs are posted
Reduce your speed if you see one deer attempting to cross a road – typically several others may be close behind
During dawn and dusk hours deer are more likely to travel – so remain alert while driving
Avoid flashing high-beam headlights or honk your horn to deter deer as this may likely startle them
What If A Deer Suddenly Cuts in Front My Vehicle?
When a deer suddenly runs in front of a vehicle it can cause panic for the driver. Their first instinct may be to swerve; however, it is important to understand that this may be a more dangerous reaction. In fact, this can lead to an even worse accident if the driver hits another car or a fixed object. Harsh swerves may also cause the vehicle to roll over.
These important steps should be followed when a deer crash seems unavoidable:
Do not swerve
Firmly apply the brakes
Keep the steering wheel steady
Maintain in your lane
Bring the vehicle to a controlled stop
Deer-Car Accident Coverage and Michigan's No-Fault Insurance
Michigan is a No-Fault State, which means that, regardless of whether the individual involved in the car accident was at fault or contributed to the accident, their car insurance will cover the costs. The coverage of No-Fault insurance policies varies depending on the type of accident as well as the provisions of the No-Fault policy. We recommend that individuals contact their insurance companies to obtain more information about their coverage.
Talk to one of our qualified lawyers at Elia & Ponto if you or a loved one have been injured in a deer-related accident, as you may be entitled to benefits and compensation.
Medical Expenses for Deer-Related Car Accidents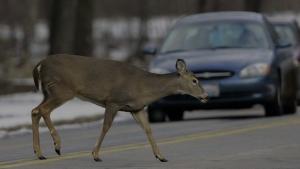 If you or your loved one are injured in a deer car accident, the medical expenses will be paid in accordance with the level of personal injury protection (PIP) that you have chosen. This may vary from person to person. All reasonable and necessary medical services required after the accident shall be covered where the individual has unlimited medical benefits. Such coverage typically includes rehabilitative therapies, medical transportation expenses, and attendant care.
Regardless of your level of PIP medical coverage, PIP benefits may also compensate for lost wages and replacement services for up to three (3) years. Time may, however, be limited. To determine your eligibility, you should speak to one of our lawyers immediately.
Medical bills of an injured passenger will be covered under the provisions of their own No-Fault policies or other health insurance policies. Uninsured passengers may apply for reimbursement under the Michigan Assigned Claims Plan (MACP).
Vehicle Damage Coverage for Deer-Related Accidents
Vehicle owners are not required to carry collision insurance under the Michigan No-Fault laws. Therefore, if a vehicle has been damaged, the cost of repairs will depend on the individual's insurance policy. In the event that the motorist does not have collision coverage, they shall be liable for the costs of repair.
What If Another Vehicle Was Involved in the Deer-Related Accident?
The above rules for No-Fault medical coverage apply regardless of how many cars are involved – however, if you are injured and another driver is at fault then additional compensation may be obtainable.
Non-economic damages, such as pain and suffering, may be recovered by filing a lawsuit against the at-fault driver, in addition to reimbursements for medical expenses that exceed the benefits of personal injury protection (PIP). Furthermore, compensation for the portion of your lost wages and/or replacement services that were not covered by the PIP benefits may also be available.
Can Drivers Be Ticketed for Hitting a Deer?
Every accident is unique – so whether a driver gets a ticket for hitting a deer is dependent on the circumstances. If the driver followed the driving laws (including the speed limit) and was unable to stop in time to avoid the deer, they most likely will not receive a ticket. However, if the driver was violating a traffic law at the time of the accident then they may be ticketed and subjected to other penalties. This also applied to driving under the influence of alcohol and/or drugs – the driver could be charged with a misdemeanor.
If you or a loved one has been involved in a deer-related auto accident you may be entitled to compensation. For a free consultation, contact our lawyers at Elia & Ponto today! We are standing by to assist you with any questions or concerns you may have.
Next Post
Michigan Faces an Increase in Fatal Car Accidents In 2020 Despite the Decrease in Traffic.