Seat Belt Regulations for Minor Passengers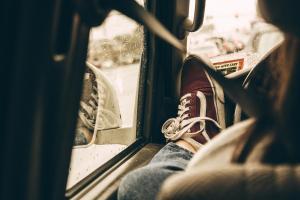 A key element behind vehicle safety is the proper use of seatbelts by all passengers. A Michigan car accident lawyer at our firm can help you understand this more clearly. Unfortunately, it is sometimes assumed that seatbelts are not necessary when a passenger is sitting in the back seat of a vehicle. In fact, even though the state of Michigan legally requires that persons under the age of 16 wear seat a belt, the law does not outrightly require back seat passengers to utilize a seatbelt. This ignores the fact that rear seating in a vehicle can pose an equal amount of risk as the front seat when passengers do not make use of seat belts. Regardless of where a passenger is sitting, a seatbelt is essential for minimizing potential injuries. The categorization of seat belt laws in the state of Michigan allow police officers to pull over any vehicle where a passenger is not wearing a seatbelt.
The state of Michigan outlines different seating requirements for minors who are passengers in a vehicle. Children under four years of are required to ride in the back seat of a vehicle. Children under the age of two must ride in a rear-facing car seat. Children between the ages of four and eight must ride in a booster seat. The only exception to this is if a child is taller than four feet and nine inches.
How Do Michigan Seat Belt Laws Affect Me?
In spite of these requirements, a high number of child passengers do not ride in a booster seat, as required by law. Booster seats are imperative for child passengers, as they are designed with children in mind and help to secure them properly so as to prevent serious injuries in the event of a car accident. This is especially important in light of the fact that standard-sized car seats are not made with children in mind, and are far more likely to increase the risk of harm or injury to a child passenger. Booster seats should be fastened securely into the car, and should also be checked for any signs of damage on a regular basis. Speak with a Michigan car accident lawyer at our firm about how seat belt regulations affect you.
What Are Michigan Seat Belt Requirements for Teens?
Michigan seatbelt laws for passengers between the ages of eight and fifteen also require that they wear a seatbelt. However, while the law explicitly requires all persons below sixteen years of age to buckle up, it does not state any requirement for persons over the age of sixteen. Unfortunately, this has led some to interpret the law as meaning that those over sixteen do not need to wear a seatbelt. However, in spite of this perceived legal loophole, passengers over the age of sixteen should still wear a seatbelt. A Michigan accident lawyer can help you or a loved one file a Michigan car accident lawsuit.
Why Are Seat Belts Important in Michigan?
Regardless of where a person is sitting, a seatbelt is an imperative safety mechanism for a passenger. In the event of a vehicle accident, lack of a seatbelt could result in serious injuries or even death. It is important to note that passengers in the rear are just as vulnerable when it comes to car accidents. This means that people of all ages should always be sure to wear a seatbelt when riding in a vehicle. A car accident lawyer in Michigan at our firm can be of great value to you.
Previous Post
No-Fault Coverage in Out-Of-State Car Accidents for Michigan Residents
Next Post
Four Contributing Factors to Teen Driving Accidents